Nexia Exploratory
User Research
**Due to contractual obligations, some of the information below is obscured &/or missing.**
Overview
Why Exploratory Research?
Nexia, a subsidiary of Ingersoll Rand, wanted to know more about their users. With the rise of competitor products in recent years like Google's Nest and Amazon's EcoBee, a to switch to a user-centered perspective was necessary to keep up. I conducted exploratory user research and design thinking workshops in the last 2 months of my internship in order to deliver key insights necessary to the product roadmap.
I completed this project in the 6 remaining weeks of my 15 week internship.
I was the sole UX researcher.
KEY GOAL
Explore user needs & turn those insights into feasible, delightful solutions.
My Role
Intern Turned Strategist.
With 6 weeks left of my 15 week internship, I found myself in a unique situation as the sole UX designer for Nexia Home. Even though I was still an intern, I was able to use this freedom to lead my own UX strategy.
During the first part of my internship, I spent a lot of time learning and researching different design thinking strategies & IBM's enterprise design thinking stood out to me. I got the "okay" from my Product Owner to pilot the strategy which meant collaborating to draft Hills* that drove the intent of the project, recruiting Sponsor Users (aka Nexia Champions) who were representatives of end-users that collaborated with me along the process, and holding weekly Playbacks to discuss the progress.
​
Since I wasn't working on a team & I was somewhat siloed,
the Sponsor Users became my team who I collaborated with multiple times a week.
​
*After creating these hills & diving into the UX process, I realized that they were too broad. They really encompassed the entire user journey. In the future, I would make them much more descriptive & actionable.
Nexia homeowners can access, understand, customize, and control their HVAC usage while relying on the system to alert them of any potential issues.
Emerging Upgraders can minimize their energy usage, save money, and reduce their carbon footprint with a reliable, seamless system.
A cost-conscious homeowner can track their energy and cost savings without sacrificing their comfort.
The Users
In 2016, Trane conducted in-depth user research to identify their customers through Deep Blue Research. I used this research with Nexia personas as a starting point to a more in depth understanding of the end-to-end journey. Then, I found sponsor users who represented each persona.
Indulgent Home Aficionados
Older, affluent home owners
Needs/Desires:
Premium Home Maintenance

Comfortable Home Environment

New, Smart Technology
Emerging Upgraders
Younger families, 1st-2nd time Homeowners
Needs/Desires:
Invisibile, Seamless System

Safe, Healthy, Green Home

Comfort over Cost
Reliability Seeker
Older, middle class, cost-conscious
Needs/Desires:
Cost & Energy Savings

Control of system

Comfortable Home Environment
User Research
Overview of User Interviews
5 Interviews with Existing Users, 5 with potential users

Users were identified based on persona

8 states represented (see map below)

Varied ages, stages of life, house sizes, & climates
Themes, Insights, & How Might We?
1. Users want control over their temperature and comfort, and schedules seem to take away control.
​
2. Users with unpredictable schedules or users who spend a lot of time at home do not see the benefit in using schedules.
​
3. Settings are confusing to set up and use.
.
1. Users who live in moderate climates tend to adjust their HVAC usage based on the
weather & outdoor conditions.
​
2. Open windows & fresh air eliminate the feeling of an "artificial environment" that running the A/C results in.
​
3. Users pay attention to the humidity because it affects how they feel.
1.Users who want maximum control over their HVAC tend to modify their behavior to save energy when it seems appropriate. (ex: leaving house, manually cooling over time.)
​
2. Users do not want the system making changes without their consent.
​
3. Users would make changes to save energy if they were made aware of their usage and ways they could save.
​
1. Users tend to change the temperature of their house when they are having people over or when they are going on vacation.
​
2. Pet owners like that Trane systems circulate their air.
​
3. Parents get aggravated when their kids change the temperature without their consent.
​
1. Trane/American Standard systems are an expensive investment to our users, and they want to know that their money was worth it.
​
2. Users want to understand and be assured that their system is working & be notified
when it is not.
​
3.Users want to know how much energy their using in comparison to to others & when their usage becomes excessive.
​
After savings for over a year to upgrade my HVAC & spending $15k on a Trane, the only difference I notice is that it's much quieter.
There was no joy in
my purchase. How do I know that it was my money?"
​
- Mike K.
How might we provide exceptionally attuned comfort without compromise?
Solutions
After analyzing the user research, I used the insights as starting points for a collaborative ideation alongside the Nexia Champions (sponsor users). Below are the converged themes, ideas, and solutions that resulted from the co-creation sessions.
Control through Time-Based Schedule
Recognize Behavior --> Recommend
Change
Customization through Modes
Open & Close Windows based on weather
Automatically temperature to save money & energy
Change temperature temporarily for guests/event
Vacation: Save energy while away & keep home safe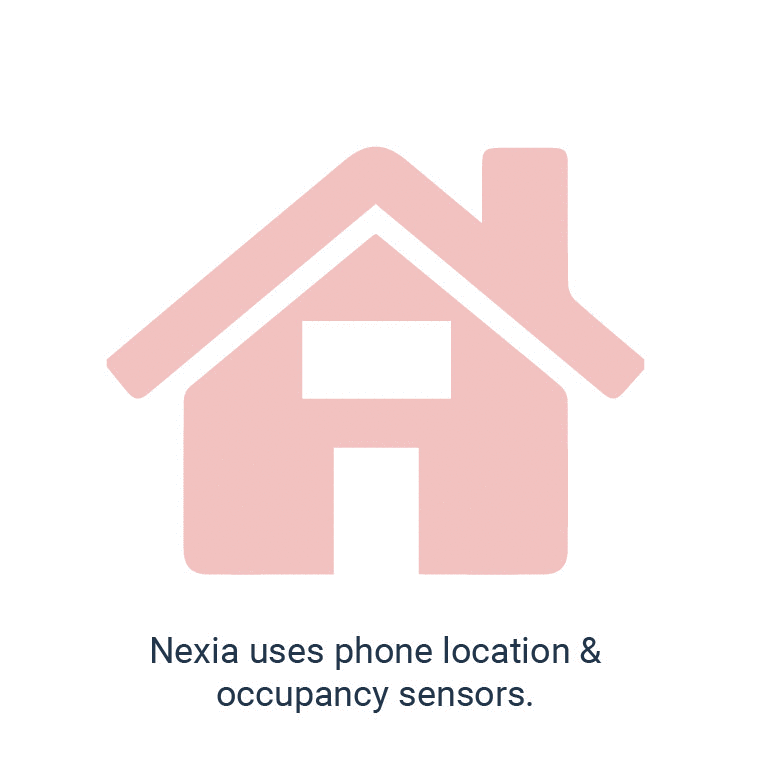 Adjust Indoor Air Quality for Health Needs / for Pet Owners
Save the Wallet & Planet!
Adjust Indoor Air Quality for Health Needs / for Pet Owners
Energy Savings Opportunities (including Open ADR)
Data Visualization & Gamification
​
System Transparency:
Health & Maintenance
Runtime History & Usage Data

​ with comparison
​
System Monitor: Health, Weather Impact, Schedule Changes